Print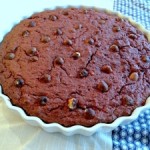 Beetroot baked oatmeal with raw cacao powder (gluten free)
One of the ways that I like to increase my healthy chocolate intake is via, ahem, cakes (OK, baked oatmeal!) Something I realised this past autumn is that the baked oatmeal recipes I'd been making, always seem to end up in the consistency of a cake. I started to not only eat the baked oatmeal for breakfast, but found that I liked to have a slice with tea in the afternoon too as a healthy snack. Nice! You've got to work with what you have, right?
2

cups

finely shredded raw beets

about 2 medium beets

1

can coconut milk

roughly 2 cups

2 ½

cups

organic oats

gluten free preferred

¾

cups

raw cacao powder

10

dates

pitted

2

eggs

OR 2 chia eggs: mix 2 Tbsp chia seeds with ½ cup water - let sit 10 mins before using

1/4

cup

maple syrup

1

Tbsp

cinnamon

1

tsp

vanilla extract

1

tsp

baking powder

½

tsp

sea salt

1/4

cup

hazelnuts

or walnuts


Optional: ¼ cup cacao nibs and/or a handful of chopped dark chocolate of your choice

the latter adds little pockets of melted chocolate which is really lovely!

(Optional to drizzle on top for extra sweetness)
1

banana

1

Tbsp

coconut oil

1

Tbsp

maple syrup

1

Tbsp

raw cacao powder

1

Tbsp

almond butter
Preheat oven to 175C (350F)

If you don't have eggs, then you can quickly prepare your "chia eggs" by mixing the chia with water and then let it firm up by setting it aside for about 10 mins (skip this step if using eggs)

Grease a small baking dish with coconut oil

Grate your beets (I suggest doing this using your food processor)

Add all of the wet and dry ingredients into your food processor (except hazelnuts)

Run food processor on high for about 30 seconds

Pour the mixture into your greased baking dish and press down using a spoon or a spatula, so you have a smooth even surface

Scatter the nuts across the top, then press them down into the mixture a bit with your finger

Bake for 35 minutes, then check. If not totally browned, cook for a few more minutes and you're ready to serve! It will feel firm to the touch.
Notes for eating
1. Because this is a baked oatmeal recipe, the interior will always be a little bit gooey this is part of the charm of baked oatmeal cakes!
2. If you want to eat it as oatmeal, then you can attack it with a spoon right out of the oven, and drizzle the topping on top!
3. If you want to eat it as a cake, then let it cool completely before cutting into slices, and then spoon your topping on top!
4. Another topping that I love on this is "Coyo" coconut yogurt