Print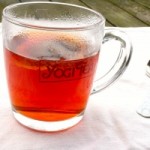 Rooibos tea benefits and creating a herbal tea routine
Red rooibos tea very popular due to it's sweet nutty taste and alluring colour. The research on rooibos is quite extensive due to a wonderfully diverse array of antioxidants and minerals which protect our bodies from free radicals, boost our immune system, fight diseases like cancer, heart disease, and Parkinson's, as well as increase energy and overall vitality.
1

rooibos tea bag

Hot water
Drop the rooibos tea bag into your cup

Pour hot water over top

Repeat for 7 days
So what are the rooibos tea benefits?
1. Minerals: Rooibos contains calcium, magnesium, manganese and zinc, copper and iron in the right proportions to support high mineral absorption.
Anti-Cancer: The Cancer Association of South Africa has officially recognised the tea as a great source of anti-cancer chemicals.
2. Fights Heart Disease: The polyphenol antioxidants called aspalathin and nothofagin have anti-inflammatory properties and can safeguard against heart disease. It's also linked with reduced blood pressure and total cholesterol reduction.
Goal
1 cup of rooibos and/or herbal tea a day over 7 days
If you enjoy it, then 3-5 cups of herbal tea a day is even better