Print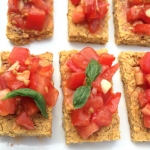 Healthy Tomato Bruschetta - Rosemary Chili Cornbread Base
This is a super quick, lovely and dense cornbread. It makes a great base for yummy toppings like the tomato and basil topping below. You can pick the cut pieces of bread up nicely in your hands, and they don't crumble, so you can use this as a base for quick and easy appetisers / canapes. Besides tomatoes, guacamole is another yummy topping, and the bread makes a great base for runny eggs on a weekend morning!
Preheat oven to 390F (200C)

Add everything into a blender and blend on high for about 15 seconds

Pour the batter onto a parchment lined baking sheet

Cook for 22-25 minutes. When browned take out of oven and let cool

Once cool, cut into rectangles the size of typical bruschetta (roughly 3 inches by 2 inches / 7.5 cm x 5 cm)
I have included two versions above: One that is vegan and one that includes an egg. The version with the egg is more dense and suitable to handheld eating. The version without the egg tastes virtually identical but is slightly less dense and my testers felt it works better when eaten off a plate.