Make sure you watch this powerful movie on maintaining health – is free this month
I highly recommend you follow the link below and register for the upcoming free "Food Matters" movie viewing. I actually paid to see this movie last month, when I was learning all about cholesterol and health stuff – but they are offering it for free for a limited period and you can register your interest by clicking link below… I am going to watch it again, and try and write down some of what they are saying, so I can blog about it. I have learned some eye opening things in the last year, and this movie contains some  gems.
I have recently in the last year been diagnosed with
familial hypercholesteroaemia
, and despite 3 doctors telling me I would need to go on statin drugs for the rest of my life to reduce cholesterol, I went online instead, and found credible sources, and created my own anti-cholesterol diet. I had my latest checkin last week with the lipid specialist and in her own words "I could not believe your LDL levels when I saw them",  "I don't know how this happened" and "this does not happen without drugs usually".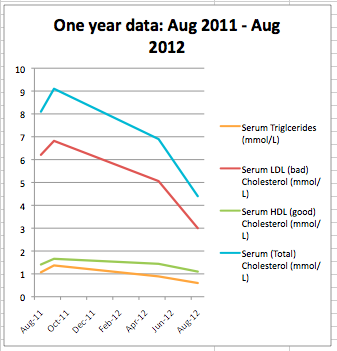 Films like the above have been very helpful in getting and keeping me healthy and I highly recommend you watch this. I 
have cut my LDL cholesterol by more than half (- 56% – see graph). With my family history, this was apparently impossible, but there is a lot of research in the last 5 years about epigenomics and how diet and other "non-gene" things can trigger (in fact – turn on or off), things that you are genetically pre-disposed to have. It's powerful stuff and good news for everyone, since most of us eventually
succumb
to some form of heart problem, and it is almost entirely avoidable. If I can do it with my genes, then anyone can.
Enjoy it! Click to register your email addy, and then they'll remind you when it's free to view in a week or so…
Love,
Laura  x