Kiwi fruit muffin recipe with dark chocolate and orange zest (gluten free)
I've been making variations of this healthy kiwi fruit muffin recipe every week for the last year and they are now my absolute favourite baked treat. The kiwis keep the muffins lovely and moist, while the oat flour, almond flour and bananas work together to form a great gluten free structure while still being relatively light and fluffy. The vanilla and toffee like flavour of the dates mix so well with the orange and chocolate that you'll definitely want a second muffin. And the cacao nibs which I've noticed can sometimes be harsh in baking, actually absorb some of the liquid of the muffin batter. By the time they're baked they transform themselves into a softer chocolate treasure, almost like a chocolate chip, adding a beautiful sweet chocolately crunch without any refined sugar or dairy.
Once you start making this kiwi fruit muffin recipe, I think you'll agree they are so much yummier than the bog-standard muffins at most coffee shops. Because they are packed with nutrients, and also avoid two of the most health damaging foods: sugar and wheat flour (you can see here why sugar is bad for you and why wheat is bad for you), they leave you with a big boost in energy and keep you going for hours.
Healthy snacks are critical in helping you maintain a healthy diet
As I probably seem to say a lot, I love the portability and ease of healthy snacks.  If you whip up a batch of these on the weekend, it takes you only about 15 minutes of hands on time, and for that simple investment you get 12 lovely chocolately portions from one kiwi fruit muffin recipe. Each contain a whole 1/3 of a banana and kiwi, plenty of heart-healthy almonds and oats, as well as other healthy fats that boost your metabolism and encourage weight loss.
I think this is the best healthy baking recipe that I've created so far, and I'm so excited to share it with you all. I hadn't found a ton of ways to use kiwi yet and because they are such unbelievable sources of Vitamin C, I was keen to find more ways to use them in more recipes. One day I ran out of blueberries right in the middle of making my blueberry muffins for happy arteries. I tried kiwis instead and they were unexpectedly great!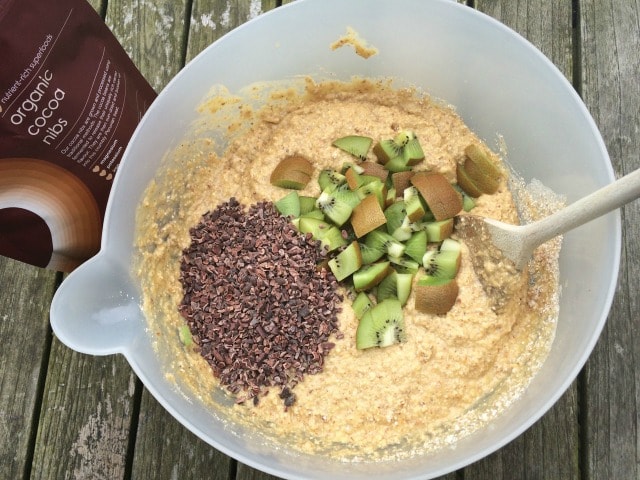 There are quite a few nutrient superstars in these muffins. Kiwis provide 273% of the daily recommended amount of vitamin C in every one-cup serving, and so eating just one of these muffins gives you 70% of your RDA for Vitamin C! That's crazy high! When you mix in the nutrients from the rest of the ingredients, you get almost 20% of your RDA for Vitamin E and Manganese, as well as around 10% of your RDA for Magnesium, Folate, Vitamin K, Copper and Iron in every single muffin. Not bad for a baked good that, in it's traditional coffee shop form, is usually considered nutritionally useless. I am super keen to reclaim the muffin. While it's not as essential a health warrior as a green smoothie, I love a good tea break treat, and this one actually heals instead of harms!
"The copper in kiwi is especially good for children, supporting healthy development in infants, and also for the formation of healthy red blood cells and building immunity against disease. Kiwi is also one of the few foods rich in vitamin B6, which supports the immune system. B6 is particularly important for healthy fetuses and pregnant or breastfeeding women. The folate in kiwi protects against birth defects, heart disease, and cancer; healthy amounts of fiber keep the system running smoothly, reducing the risk of diverticulitis and carcinogens in the body. Finally, the antioxidant power in kiwis delivers similar effects when it comes to neutralizing free radicals that can damage cells and cause inflammation and cancer."  -Mercola Food Facts
Don't let