Watermelon tomato salad with oatmeal and kalonji seeds
There's nothing like the refreshing, water-rich sweetness of watermelon to take me back to carefree summers eating these rich red wedges while spitting out the seeds onto park lawns. I'm feverishly eating my fill of their juicy red goodness as this summer comes to a close.  I always forget about these gorgeous melons until the end of summer! It's when the tomatoes start their earthy, juicy siren song at this time of year that I remember watermelon tomato salad! The mixture of the two is wonderful and powerful for our cardiovascular systems. So I've been eating both like mad the past two weeks.
Watermelon is one of those awesome anti-inflammatory foods we keep hearing about that can help prevent things like heart disease and cancer. This salad is a knockout for heart health. It contains a who's who list of heart-friendly ingredients including tomatoes, watermelon, mint, peppery greens, kalonji seeds, and olive oil.
I used to think that maybe watermelon was too sweet and that I should be careful with it, but it's actually one of the most fibre rich fruit/vegetables around (there is debate as to whether it is a fruit or not!) Due to the fibre content, it's has a lower impact on the glycemic index meaning it is more heart healthy.

Watermelon tomato salad packs a powerful antioxidant punch via lycopene
Most of us have heard about tomato's lycopene content, but watermelon actually contains more lycopene than tomatoes. Lycopene is a carotenoid phytonutrient that is a powerful antioxidant and particularly important for our cardiovascular and bone health.
Watermelon can increase blood flow via L-arginine
This watermelon recipe also contains citrulline which is an amino acid that is converted into L-arginine in the body. This conversion to arginine allows for the synthesis of nitric oxide which plays an essential role in blood pressure and cardiovascular health. L-arginine acts as a vasodilator, opening (dilating) blood vessels and studies have confirmed that watermelon consumption increases plasma (blood) arginine concentrations in adults. This is useful to know as it shows that watermelon can be a tool we can use for heart health protection.

868 studies on kalonji seeds show impressive disease prevention and reversal
I've written here about my love affair with kalonji seeds which not only reduce cholesterol, but stimulate the immune system, protect and heal the body against cancers and other diseases, improve multi-strain resistant bacterial resistance and do so many, many other positive things that I urge everyone to buy a jar of the black kalonji seeds, or the black kalonji/nigella oil. I add these black beauties into almost any recipe I create where the flavour makes sense. They are particularly lovely with tomatoes, so I add them to salads and tomato sauces quite often.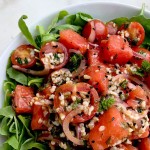 Watermelon tomato salad with oatmeal and kalonji seeds
This salad is a knockout for heart health. It contains a who's who list of heart-friendly ingredients including tomatoes, watermelon, mint, peppery greens, kalonji seeds, and extra virgin olive oil.
Ingredients
1/2

cup

pinhead oats

2.5

cups

watermelon

cut into chunks

1

cup

cherry tomatoes

cut into half

1/2

cup

red onions

1/2

cup

mint (or parsley)

1

tbsp

extra virgin olive oil

2

tbsp

apple cider vinegar

1

tsp

kalonji seeds

2

cups

greens like arugula / rocket
Instructions
Make the oatmeal by adding the pinhead oats and 1 cup of liquid (veggie stock is good here) into a small pot on high heat and bring to a boil. Reduce heat and simmer for about 15 mins. Remove from heat, set aside and allow to cool slightly.

While the oatmeal is cooking, cut up the watermelon and cherry tomatoes and add to a salad bowl along with the mint and red onions. Mix well to release some extra juice from the watermelon, which will augment the dressing sweetness.

Make the dressing by whisking the olive oil, vinegar and kalonji seeds together.

Add the dressing and the cooked oatmeal into your watermelon mixture. Combine well.

Now line 2 bowls with peppery greens, and then spoon your watermelon mixture on top. Sprinkle on some more kalonji seeds (sesame seeds also work) on top for garnish if you like. Add salt and pepper to taste and you're ready to eat! If you like feta cheese, feta is really lovely in this as well!
Recipe Notes
I hope you enjoy this refreshing watermelon tomato salad which is perfect for August through October, or as long as watermelons last in your region. If you don't have the time or patience to make the oatmeal, which is the only step that takes a bit longer than simply chucking ingredients into a bowl, I have used old stale bread in a pinch. Breads like 100% rye or wholegrain sourdough cut into small cubes can work well to soak up the dressing. The other thing that works well is to serve it alongside some tinned fish for extra heart health points! Let me know if you love it as much as I do.