Beet oatmeal recipe for lower blood pressure
In many ways, this ruby red, heart-healthy breakfast is the gastronomic equivalent of a giant cozy sweater. It's delicious, satisfying and makes your morning extra-snuggly good. Beets, apple, cinnamon and coconut oil mix to create a luscious mouth-feel. Go ahead. Let it transform your winter and spring mornings (in less than 10 minutes!)
I absolutely adore beet oatmeal in the cooler months. It's a really easy way to sex up oatmeal. While oatmeal is definitely a cholesterol lowering health superstar, it tends to be a little plain and has a reputation of being boring on its own. This 6 ingredient beet oatmeal is anything but. It's fast to make, super tasty and a delight to look at. I've posted quite a few pictures in this post with ideas on how you can add different fun toppings, which are beautiful and yummy.
Beets can lower blood pressure significantly
Beetroot juice is one of the richest dietary sources of nitrates, which help improve blood flow and heart health. Why should we care about this? An interesting 2016 study published in JACC: Heart Failure, looked at heart failure patients with a history of low exercise abilities and high blood pressure. The researchers had the participants ingest beetroot juice over a small 6-8 day period. Even in that tiny intervention (days!), the participants improved their exercise endurance and lowered their blood pressure significantly. Wow! So, in 6 days of eating beet juice, we can see a major health improvement!
I hope you'll join me in saying: "Yes please – bring me some beet oatmeal!"
We don't need more drugs. We need more healing foods.
Another thing that jumped out at me from this JACC study, is that medications have often been unsuccessful in improving exercise endurance for heart failure patients. Again – why should you take note of this?  This is a pattern. When you compare food solutions versus drug solutions, drugs typically fail to actually solve our health problems (not always, but much of the time).
It's our foods that contain the power to heal us. Food can actually target the root cause of our health problems. Pharmaceutical drugs generally only contain isolated ingredients that can bandage over the symptoms of our health problems in the short term. They are not designed to tackle the root cause of our problems.  In the case of cholesterol, for example, statin drugs are designed to reduce our cholesterol but not create heart health. Those are two very different things. In fact, we know that about 75% of people that have heart attacks have normal or "optimal" cholesterol levels.
Our diseases often continue to progress when we take drugs, rather than retreat or be healed. I want this to become a hotter topic of conversation moving forwards, so that many more premature deaths can be prevented.
Beets contain blood-vessel-friendly nitric oxide
The health benefits from beets likely come from the naturally occurring nitrates in beets, which are converted into nitric oxide in your body. Nitric oxide, in turn, helps to relax and dilate your blood vessels, improving blood flow and lowering blood pressure.
Cinnamon is much more than just a flavour enhancer
Another health warrior in this beet oatmeal recipe is cinnamon. Ceylon Cinnamon (not cassia cinnamon which is more commonly found in supermarkets), is a wonder spice that I try and include in as many dishes as I can.  I've talked about the ORAC antioxidant scale previously which measures the antioxidant concentration in different foods. Cinnamon ranks #7 of all foods, spices, and herbs across the world! So a little bit of cinnamon goes a long way. Even a tiny 1/2 of one teaspoon of cinnamon daily can have positive effects on blood sugar levels, digestion, immunity, and more. Stronger doses of ceylon cinnamon are also extremely beneficial for improving heart disease risk and cutting your risk for diabetes, cancer, and neurodegenerative diseases. And of course, beyond the health benefits, cinnamon and apple are meant to mingle together in breakfast dishes!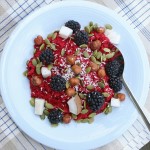 Gorgeous beet cinnamon oatmeal
Beetroot awesomeness injected into comforting porridge. Can't go wrong. It's got a nice earthy sweetness, and if you're a sweet tooth, you can always top it up with a tiny bit of additional maple syrup or honey. The cinnamon in the porridge will slow down the release of these added sugars.