Egg bake recipe with kalonji seeds
Those of you who follow my Instagram account will know that I make this spicy egg bake recipe almost every week. Something I particularly love about the recipe is the mixture of tomatoes and kalonji seeds. These beautiful black seeds are also called nigella or sometimes black onion seeds. The little gems add a nutty and peppery taste to this dish. I was first introduced to kalonji seeds almost 15 years ago by Vancouver chef Karen Barnaby, who was then the Executive Chef of The Fish House in Stanley Park. She paired them up with bocconcini cheese, tomatoes and olive oil, and I've been in love ever since (give this a try – just sprinkle them overtop!)

Kalonji (Nigella Sativa) is a widely studied and used medicinal plant
Besides adding a peppery taste to foods, the kalonji seed (Nigella sativa) has been used as traditional medicine for centuries. Currently, 868 studies have been done on Nigella Sativa to look at its effectiveness in treating multiple diseases and ailments. Some call it a "miracle plant" as the seeds have a broad range of pharmacological effects including immune-stimulatory, anti-inflammatory, hypoglycemic, antihypertensive, antiasthmatic, antimicrobial, antiparasitic, antioxidant and anti-cancer effects. The outcomes are very impressive for what many would consider a tiny, innocuous-looking black seed.
I was particularly impressed with the research showing Nigella sativa's potency against "superbugs" or multi-drug resistant bacteria. Another jaw dropper is that Nigella sativa is one of the few substances on the planet that is suggested to help prevent both type 1 and type 2 diabetes, and it "improves glucose tolerance as efficiently as metformin; yet it has not shown significant adverse effects and has very low toxicity!" (Metformin is a common drug used to treat Type 2 Diabetes that has an avalanche of unpleasant side effects.)
So let Nigella Sativa beguile you with its disease reducing powers. I hope these incredible studies will incentivise you to make the tiny investment for a jar or two full  of these flavour filled seeds. (You can use them for so much more than this egg bake recipe!)
Nigella Sativa lowers cholesterol (both total and LDL)
As someone with genetically high LDL cholesterol, I was very interested to find studies indicating that different preparations of Nigella Sativa have been shown to reduce cholesterol with no side effects. The plasma levels of total cholesterol, low-density lipoprotein cholesterol (LDL-C) and triglycerides are all impacted positively by this black seed. Studies indicate that the lipid-modifying effects of Nigella Sativa could be attributed to the inhibition of intestinal cholesterol absorption, decreased hepatic cholesterol synthesis, and up-regulation of LDL receptors.

This egg bake recipe makes a great weekly meal prep routine
One of the best life hacks for busy people to stay healthy is weekend meal prep. This well spiced one-dish egg bake recipe tastes awesome, can be used as a weekend breakfast (perfect for crowds), and can also be made ahead and packaged up for easy on-the-go weekday meals. This recipe is great when you know you won't have more than a few minutes to spend on breakfast, yet want a tasty, nutrient dense meal on standby. I make up a big casserole dish of it then slice it into individual breakfast portions and leave it in the fridge for a few days. It's a delicious morning lifesaver! It's great served on it's own or alongside some avocado slices and rocket (arugula) or spinach leaves.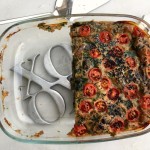 Egg bake recipe with kalonji seeds
Egg bake recipe good for Saturday brunch or weekly meal prep. A nutrient dense breakfast with amazing, cholesterol lowering, immune boosting kalonji seeds