A thrilling start to 2015
A great big hug and Happy New Year to you!
It's been such a thrilling start to the year to receive the annual website performance reports that WordPress circulated  this week. This has been the year where I have stopped feeling like one person shouting alone into the wilderness. This has become a true health community and I have enjoyed every minute of sharing with you.
A thrilling start to 2015
I can't believe it but my blog has grown by a whopping 741% since 2013. Over 37,000 blog posts have been viewed on The Confidence Kitchen over the last year (up from 4500 in in 2013). It is very encouraging to see so many people hungry for real health and the practical and easy habits they can use to achieve it. Love, love, love it!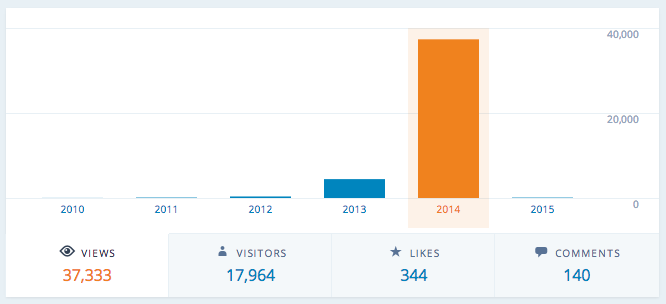 I wanted to say a special shoutout today to my amazing community on Instagram, Twitter, Facebook, and here on the blog: thank you so much for all of your likes, input, interesting comments, and overall positive vibes during 2014.  I love you guys!
And the greatest thing in the world is sharing these discoveries and then getting a tweet back like the one below. This lady helped clear her son's complexion through green smoothies:

Want easy steps to get radiant and healthy in the New Year?
While they often fail, I think New Year's Resolutions are great because unlike most of the rest of the time, we focus briefly amidst the madness of life on what we actually desire.
Of the top 10 most common resolutions in any given year 2 of them are generally about health:
Lost weight and get fit
Eat healthier and diet
Because resolution writing doesn't seem to work for the majority of people, this blog is about overcoming the obstacles we all face when it comes to living our best lives. While we talk about health education and recipes here, there is something else going on at a deeper level.
I enjoy breaking down difficult lifestyle challenges into doable steps and habits that even the most time frazzled and budget conscious can really make happen. Cracking these health puzzles is one of the most efficient methods I've found to change your entire life.
Small daily improvements are the key to staggering long-term results
This year we're going to be taking small steps every week. You can do them. They're not rocket science. You have the time. You will feel better: both in your body and about your life.
This year we'll learn how to apply information like:
How small changes to your eating habits work when diets don't
Add the right things into your diet rather than take stuff away
Why the right kinds of fats are healthy and can aid weight loss
How to turn back the clock by reducing sugar in your diet
Eat yummy, sweet things that are healthy for you
Get the nutrients to stay slim, reduce cravings and look amazing
Watch out for diet sodas and alternative sweeteners that cause weight gain (even more than regular sodas!)
Improve basic heart disease indicators like cholesterol and triglycerides in less than 3 months
Sneak raw foods painlessly into your diet for incredible skin
Why moderate exercise often is better than more extreme forms
Enjoy being hot at any age. There are thousands of outstanding role models out there who are smokin' hot – even at 70+ years!!
Can't wait to get started on our teeny tiny (aka doable) health building steps in the next post. I look forward to sharing the journey together.
With lots of  love,
Laura
xx

"This has been the year where I have stopped feeling like one person shouting alone into the wilderness. This has become a true community and I have enjoyed every minute of sharing with you.
– Laura Livesey, The Confidence Kitchen, Jan 1, 2015