Lemon curd tart recipe with blueberries
Oh how I love lemon curd tart! Well any super sour lemon dessert actually. I was on a walk last month and the idea for this recipe literally popped into my head. I think it had something to do with the longing looks I shot over at the french lemon curd tarts on my way out of Paul's Patisserie the weekend before. Sure, I could have one of those on my cheat day, but I started thinking about the basic ingredients, and once you get rid of the refined sugar, lemon curd is pretty much a nutrient-rich paleo dish. It usually has sugar, eggs, lemons, and butter. So how about a paleo and vegan version I thought? Surely it's not that hard?
Haha. I have been tamed by the tart. I had to make this lovely tart 7 times to get it right, mostly because of the thickeners, which get weakened by the acid in the citrus, and also because I wanted a super creamy tart – less like jello and more like luscious pudding.  After each new taste, either I wound up looking like a fish (because I like sour, but not that sour), or the tart had not set and slid off the pan, or it set too much and lost it's creamy mouthfeel! But I'm so glad I did and I don't think the taste testers minded all that much!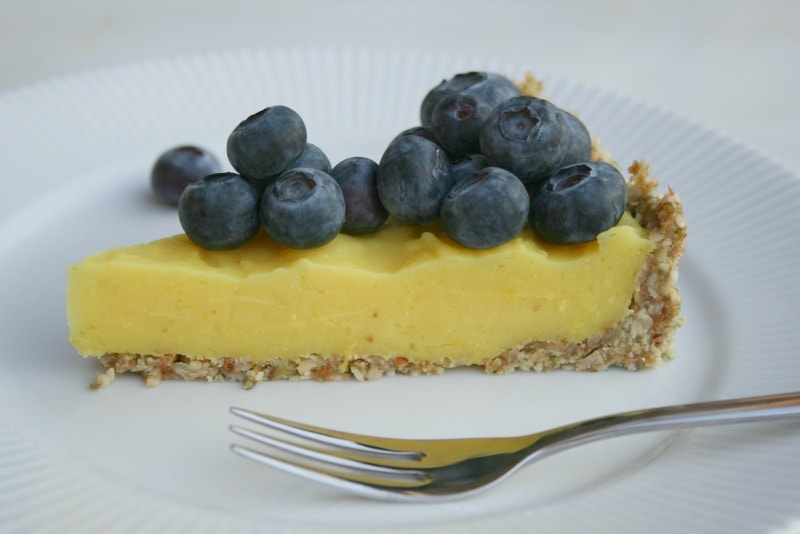 Making lemon curd tart healthy with thickeners
There are a host of new thickeners I discovered that are more health-friendly than typical thickeners. I hadn't really dived into the world of healthier thickeners before. I'll write another post about gluten free, paleo and vegan thickeners as they are all quite useful to have in your toolkit for different situations. What I used in this recipe is both kuzu and agar agar because both of them work for vegan and paleo diets, two of the most common styles of healthy eating these days. But I also tried making this tart with more commonly used thickeners (arrowroot and gelatin),  so if you only have access to those, they will work. I think it's worthwhile to give kuzu a try, especially as it comes with a host of health benefits and it works exactly like arrowroot powder, cornstarch or flour. It's become my new go-to thickener of choice for reasons I'll share below.
Kuzu is sometimes also called Kudzu or Japanese arrowroot. It's now grown around the world with strong representation both in Japan and the southern United States. While standard thickeners like cornflour can do much the same job, they tend to be highly processed and treated with chemical bleaches and extracting agents. Organic kuzu is a completely natural gluten free starch and has been used in Japanese cuisine for 2000 years.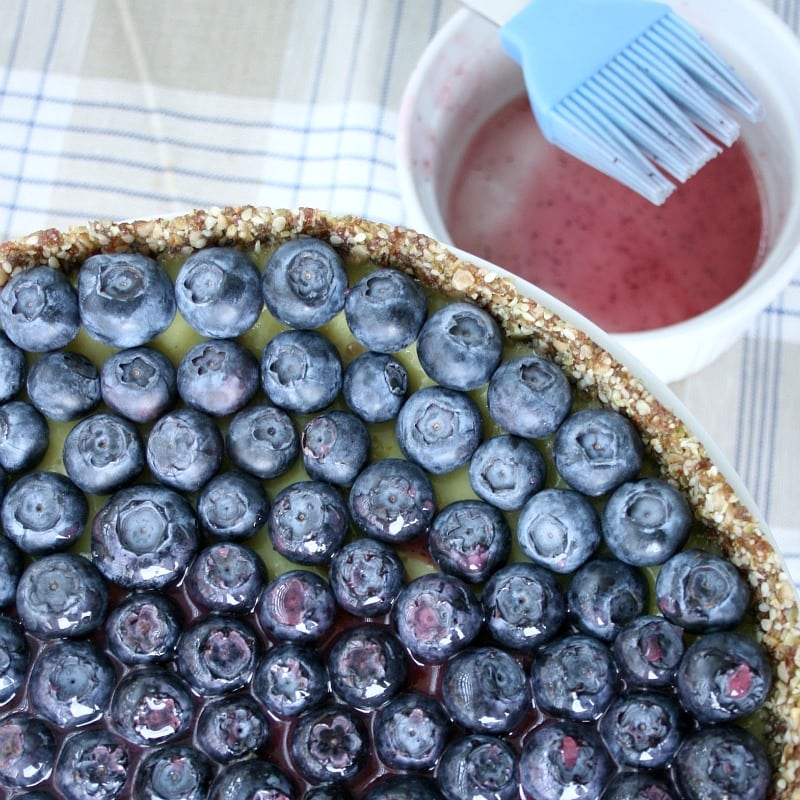 Kuzu root's high concentration of flavonoids (potent antioxidants) aid digestion and tummy upset. A very special flavonoid from kuzu, puerarin, has been isolated and studied by pharmaceutical companies. It's used medicinally to reduce high blood pressure, regulate blood sugar, relieve chronic migraines and ease muscular tension. A few studies have even found that the consumption of flavonoids such as puerarin reduce the risk of cardiovascular, cancer and neurodegenerative diseases. So the benefits of kuzu definitely got my attention, and incentivised me to use it in this lemon curd tart.
The beauty of a raw tart crust
Something that is really awesome about this recipe is you don't need to use an oven. The crust is made up of a selection of tasty seeds, coconut oil and dates. You will be amazed at how well it holds together.
Seeds are a vital part of our diet due to their digestion friendly fiber, antioxidant rich Vitamin E and skin-saviour minerals like zinc, copper, selenium, magnesium and iron. They are great at fighting disease, boosting energy, lowering cholesterol and boosting your immune system. But their protective benefits are best gotten from raw seeds. So by eating a yummy raw seed crust like this, you preserve all the outstanding nutrients and give your skin, hair, heart and cells some lovely building blocks to work with.
If you're short on time
Besides being amazing in a tart crust, the lemon curd from this recipe works really well on it's own. It's perfect if you want to make a quick creamy pudding that you can just top with fresh fruit. (If you are making a pudding, you can reduce the Agar Agar or Gelatin that you use substantially, or leave it out entirely).
I've topped the tart with blueberries which go so well with lemon, but other fruits also work, if you have those on hand. Sometimes I even just make a basic lemon tart which is quick and satisfying on it's own. I can't wait for you to try it!