The best healthy salad dressing plus taking on the fear of good fats
I'm sure you've heard that one of the best habits to get into food-wise is to get more greens, add more roughage, eat the rainbow, chomp on fiber, down more salad, get your five a day, etc. Something that gets in people's way with this edict is the perceived dryness of salads. I've had plenty of bad salads in my life. In this post you'll learn how to leave tasteless salad days behind by bringing the best healthy salad dressing into your life.
The low-fat myth has impacted salad dressing for four decades
This sad period of pleasureless salads came about partially as a result of the low-fat myth which thankfully has finally been put out of its misery. Even though low-fat is on its way out and despite the science completely changing, there are still a lot of old articles floating around on the internet erroneously promoting low-fat eating. But the times have changed.
As I've reported previously in posts about lowering cholesterol naturally, Sweden altered its national dietary guidelines towards low-carb/high fat in 2013 after reviewing 16000 studies. In 2015, the USA also changed their advice about fat and cholesterol avoidance (after four decades!) They removed the upper limit on fat consumption, promoted an increase in good fats, and removed the warnings about cholesterol.
While fat now has the green light, many people still feel uneasy changing their ingrained habits
So before I get into this fantastic recipe, please remember that healthy fats are your friend. If a salad dressing says "low-fat"; please, don't eat it. It's not healthy. You need some fat in your salad to help you properly absorb nutrients. But, if despite the science, you still have a funny feeling about eating fat, you're not alone (and after four decades of incorrect media warnings about fat, who can blame you!)
Dr. Mark Hyman, author of Eat Fat Get Thin, and the Director of the Cleveland Clinic Center for Functional Medicine finds that patients routinely share a learned avoidance of fat. They come to him all the time saying  "the plan you're putting me on includes lots of nuts, seeds, coconut oil, avocados, eggs, and even some butter. I can't shake my fear of fat. I think all this food is going to make me gain weight." Here's a great video below that gives you a quick overview about why fat doesn't make you fat.
I had the pleasure of meeting Dr Hyman last month at an event in London on the future of medicine. He spent a fascinating 5 hours summarising the most up to date science on the root causes of disease and a holistic treatment approach called functional medicine. A big part of the day was spent debriefing the end of the low-fat myth and why it has caused millions of people to shorten their lives by decades.
The latest research is very clear. Many people are not eating enough healthy fats and by not doing so they negatively impact their health and weight loss. So, let's remedy this.
The tastiest, creamiest and best healthy salad dressing
This dressing… sigh. It's one of my secret weapons for making almost any selection of salad ingredients instantly gorgeous and dreamy to eat. It features heavily in my week days. I have a jar constantly on the go and have been eating it almost daily for a whole year (without losing interest!) I figured it was time to share.
The flavour? An explosion of what the Japanese call umami, or a 'pleasant savoury delicious taste.' There are hints of cheese (thanks to the nutritional yeast), fruit, olive oil and garlic. The sweetness of the apple balances nicely against the apple cider vinegar and the saltiness of the tamari.
The health benefits of this dressing are fantastic. Every single ingredient is a health warrior including the sesame seeds in the tahini which are an excellent source of copper, a very good source of manganese, and a good source of calcium, phosphorus, magnesium, iron, zinc, molybdenum, vitamin B1, selenium, and dietary fiber. Add to that other known heart healthy and cholesterol lowering superstars like apples, garlic, olive oil and apple cider vinegar, as well as the B Vitamins, protein and fiber in the nutritional yeast, and you can see why I called it the best salad dressing for healthy eating.
I love this dressing all by itself, but what I love more is that it inspires me to eat lots and lots of salad ingredients. I'll take whatever I have on hand in the fridge, mix it up together in a bowl with some dressing, nuts and protein and chow down. It motivates me to go on mini missions looking for healthy things I can cover with the stuff. Truly. I seek out greens and raw veg to unceremoniously smother.
Here are some typical mixtures that go well with this healthy salad dressing:
Rocket (arugula), shredded carrots and beets, cucumbers, tomatoes, nuts and dreamy tahini dressing (DTD)
Spinach, roasted root vegetables, sardines, and DTD
A whole roast sweet potato smothered in chives, rocket, and DTD
Rocket, blueberries, walnuts and DTD
(For more ideas and daily health inspiration see my Instagram pics)
This dressing is also fantastic with Japanese or Thai style ingredients as the sesame/sweet/soy mixture is a classic Asian-inspired salad dressing. Try it on chicken or falafels. Fish and steamed veg. Wraps or rocket. Awe inspiring. Ok I know I'm over-hyping it now, but it's a surprising all-rounder. The point is for you to crave another plate full of greens and salad covered with this creamy gem. So here's how you make it. I keep a jar to hand at all times.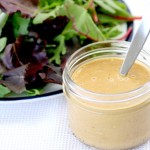 T