Reduce cholesterol with daily oatmeal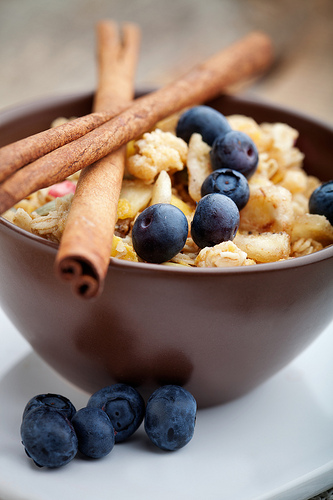 Since 1997, oatmeal has been given the status of a "qualified health claim" by the FDA. Health claims on food labels are claims by manufacturers of food products that their food will reduce the risk of developing a disease or condition. This oatmeal health claim has allowed advertisers to mention it as a heart friendly ingredient on any products that contains oatmeal. There are very few foods that have approved health claims.
Since the 97′ ruling, oatmeal has been further reviewed, and Dr. James W. Anderson, professor of medicine and clinical nutrition at the University of Kentucky College of Medicine, has said that during the past 15 years, since the original studies showing the positive correlation between oatmeal ingestion and cholesterol reduction that "Whole-grain products like oatmeal are among some of the best foods one can eat to improve cholesterol levels, in addition to other lifestyle choices."
Recently this July, in an article by Swedish researchers Dr Kristina E. Andersson and Per Hellstrand, the researchers found that oats not only reduce LDL or "bad cholesterol", but they also have a positive impact in easing inflammation which can be caused by high cholesterol.
So as an easy starting, point, I suggest that oatmeal is an easy way to begin building a habit of daily heart-healthy food intake. This was the first habit that I built into my routine when I started to go about reducing my own cholesterol from a high of 352 mg/dl (9.1 mmol/L) in Sept 2011 down to a low of 170 mg/dl (4.4 mmol/L) in Aug 2012. Daily habits will help you win the battle of high cholesterol.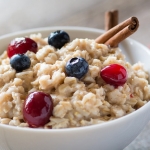 Reduce cholesterol with daily oatmeal
Ingredients
1/2

cup

whole oatmeal

not instant

1 1/3

cup

water

Cholesterol Busting Topping (per person):
10

walnuts

1/2

banana

1/2

cup

blueberries or blackberries

1

tsp

cinnamon

1

Tbsp

raw organic coconut oil

stevia or agave syrup to taste

small amount