Orange Sesame Baked Oatmeal Recipe with Cacao Nibs
I've been having a love affair with sesame seeds lately. Tahini in particular. You know tahini – that nondescript brown coloured paste that doesn't taste great on it's own, but when you add it to hummus, salad dressings, or well… anything, you get a lovely flavour burst and a beautiful creamy texture. Since tahini is just ground up sesame seeds, I got to thinking about how else I might use these lovely little seeds, which are super nutrient rich, vanity boosting gems. Enter this baked oatmeal recipe. Because when you think about sesame seeds what comes to mind? Don't you just automatically start thinking aboutChinese food and things like sesame orange chicken? So when spotting a rather large mountain of oranges after last week's produce delivery, a plan was hatched!
This baked oatmeal recipe is great to make on a weekend to eat hot out of the oven, and it's also amazing cold as leftovers during the week. I usually double my baked oatmeal if a few of us are eating it for brunch on the weekend, and then that leaves me several blissful days of quick weekday breakfasts. Another plus about this is that it mixes up quickly in 10 minutes, so if you throw it into the oven first thing when you get up, it will be ready to eat by the time you are finished getting ready in the AM.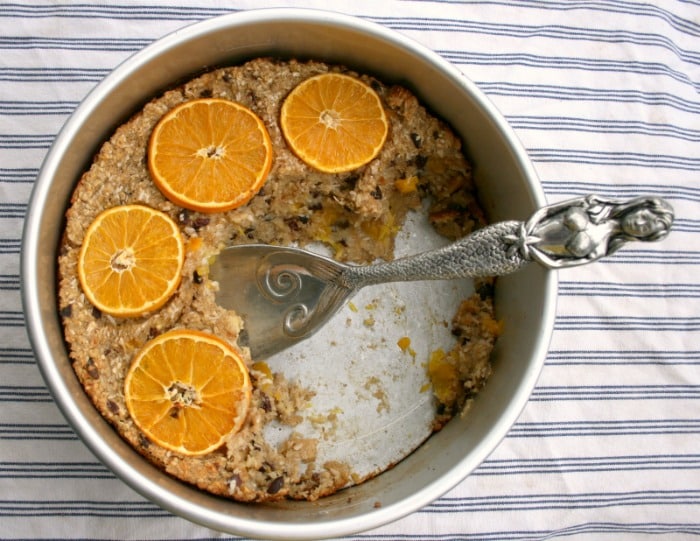 Sesame seeds help lower cholesterol, control inflammation in the body and beautify skin and hair
Sesame seeds are an amazing source of copper and manganese (1 cup of seeds contain 294% of our RDA for copper, 177% for Manganese, and well over 100% for Calcium, Magnesium and Iron!) Copper is the third most abundant trace element in the human body after zinc and iron. Many of us are deficient in copper and this is unfortunate as it plays a key role in a number of anti-inflammatory and enzyme systems. Our skin and hair are very thankful for the copper, other minerals and inflammation fighters in sesame seeds and respond beautifully to the influx of nutrients.
In addition to these important nutrients, sesame seeds contain two unique substances: sesamin and sesamolin. Both of these substances have been shown to have a cholesterol-lowering effect in humans, with studies also showing big improvements for type-2 diabetics, as well as that sesame oil can produce better cholesterol reducing results than olive oil!
A baked oatmeal recipe is a great vehicle for heart health
One of the guiding principles that has changed my life is that the best way to slowly improve your health is to focus mainly on adding in foods that are healthy (and therefore crowding out any nasties that might be lurking in your diet). One of the reasons I really enjoy a baked oatmeal recipe is that it is a perfect way to strategically include amazing ingredients from the cholesterol lowering and heart healthy shopping lists. Almost every single ingredient in the recipe below (oats, bananas, oranges, cacao nibs, sesame seeds, almond milk, ginger) is a heavy hitter for reducing inflammation, increasing optimal health and driving down your important blood measures including triglycerides, cholesterol, and inflammation markers.
It's great to have a baked oatmeal recipe or two up your sleeve as they are super simple, tasty and quick to whip up. Some other awesome baked oatmeals you might like to try after this one are: baked oatmeal with carrots, coconut and cardamom as well as beetroot baked oatmeal with raw cacao powder.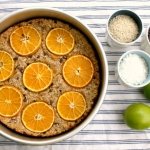 Orange Sesame Baked Oatmeal with Cacao Nibs
This baked oatmeal with sesame seeds provides amazing nutrients including copper which is great for lowering cholesterol as well as beautifying hair and skin