Papaya green smoothie for clear skin
So many of you gave such positive feedback and requested more smoothie recipes for firm, clear, gorgeous skin. The sneaky thing is that while you're pursuing a gorgeous glow, you'll also be seeing side benefits for your heart, respiratory system, joints and bones, digestive system, and overall immune system (don't worry, I won't tell anyone)!
It was certainly a surprise for me when  I first started trying to increase my overall heart health.  I was getting unexpected compliments on my skin. For this reason, we'll gladly let vanity drive us and continue  the natural beauty theme this summer.
Main benefits of eating this green smoothie
Get your day's worth of antioxidants and disease fighters all at once
Total ORAC Score of this recipe:  8094 which means it contains 116% of your fruit and veg for the day. Job done! (Note: You need 7000 ORAC units a day for basic health and 20000 ORAC units a day if you're trying avoid degenerative diseases or seeking optimum health)
Key ORAC Breakdowns: Spinach- 5 oz of spinach in 2 cups: 3771,  Avocado- 1 cup (150g): 2883, Carrot- 1 cup (128g): 892, Papaya – The flesh of a  medium-size papaya provides about 1 cup (140g): 420
Heart healthy: you can read my primer on green smoothies, ORAC antioxidant values, and cholesterol reduction here
I designed this smoothie to contain off the charts amounts of the skin saviours: Vitamin A (4000% of the minimum recommended daily allowance or RDA), Vitamin C (194% of RDA) and Vitamin E (103% of RDA). It's also full of hard-to-get skin minerals including copper (100% RDA), manganese (83% RDA), magnesium (67% RDA),  and decent amounts of zinc, selenium, phosphorus, iron and calcium too
For a primer on the main benefits of eating skin-friendly smoothies (including improved skin tone, clarity, contour, reduced wrinkling, wound healing, plumpness, and reduced or eliminated skin eruptions), please see this post on how to get gorgeous skin fast with easy green smoothies. And if you are interested in why green smoothies dramatically increase your health, you can read this overview on the importance of  of antioxidant levels in green smoothies, and how they strongly impact your heart and speed up cholesterol reduction.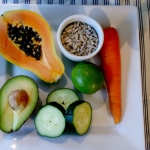 Papaya green smoothie for clear skin
This is a green smoothie with papaya.
Ingredients
2

cups

spinach

1

papaya

seeds removed, flesh scraped out

1

carrot

1

lime - fruit + zest

1/2

cucumber

5 x 1" slices

1/2

avocado

1/4

cup

sunflower seeds

shelled

2

cups

coconut water
Instructions
Put spinach into the blender first, followed by all the other ingredients. Note: the lime zest is really worth adding - it lifts the flavours of the other ingredients.

Blend everything for about 1-2 minutes until smooth

Drink!
As a habit, I try and eat more raw foods in the summer. Many people find them so much more palatable and refreshing at this time of year which is great because the health and beauty benefits of raw foods are off the charts. 
This smoothie is an easy and delicious way to take care of your fruit and vegetable intake for the day, while boosting your natural beauty. Enjoy!
More Natural Beauty Tips:
Tip 1 | Tip 2 | Tip 3 | Tip 4 | Tip 5 | Tip 6 | Tip 7 | Tip 8 | Tip 9 | Tip 10[/fusion_builder_column][/fusion_builder_row][/fusion_builder_container]